How to make your own DIY Cable Cam
At first I thought it was impossible but increasingly I've been coming round to the idea especially if we keep it simple.

So there's two key elements to a cable cam. The rope/cable the camera runs on and the unit holding the camera. Our first choice of cable or rope was decided for us. Coming from a climbing background I had plenty of rope and kit to get it reasonably tense so we decided on 10mm semi static rope as our 'cable'. The major issue for us was the design and build of the unit. I had seen a really good version on the web so decided to pretty much copy it.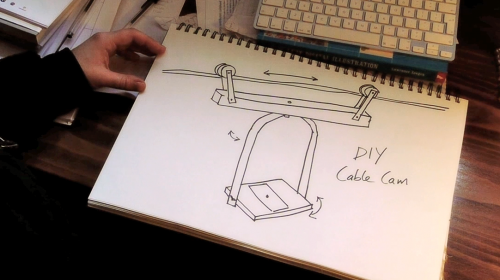 We selected some heavy duty aluminium box section, found in my Dad's shed. (We saw some steel or Aluminium box section in B&Q which would have been fine.) Cutting the box section to length was easily done, we cut it at about 75cm. The frame for the camera to sit in was made by bending the drilled steel plate to make a squared off U shape. The tilting plate for the camera was made using a cut to shape section of plywood and the corner brackets from B&Q screwed together. These all bolted together with some M6 threaded bolts cut to size and butterfly nuts. The thought then was to use cord to attach the pulleys to the box section once the cable was in place. This was all bought and cobbled together in about 4 hours on a Sunday afternoon.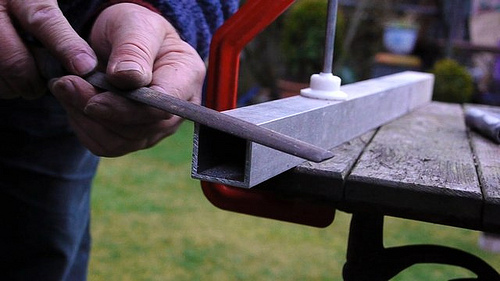 Some lightweight steel plate with holes already drilled in it looked to be perfect for the frame for the camera to sit in. We also found some corner sections of steel in the roofing section of B&Q which worked perfectly as the tilting bottom plate for the camera once we screwd a section of plywood to it.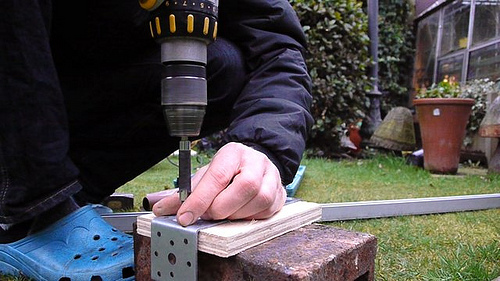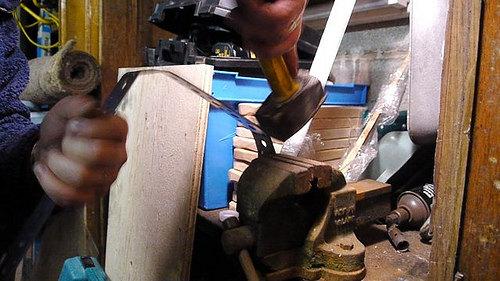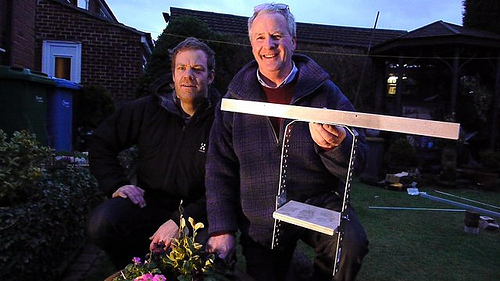 The first version used petzl fixe pulleys but these are too heavy duty and not free running enough. The second version, 2.0, used the wheels from some half decent rollerblades we picked up at a bargain price.

They had some very smooth ABEC 5 bearings in them. We cut some aluminium bar into 4 equal sections and gave them a slight flare to take into account the additional width of two wheels side by side compared to the width of the box section. We drilled holes at either end and then bolted the plate tot he box section and the wheels with appropriate spacers to the aluminium plate. Very smooth rolling with no discernable vibration.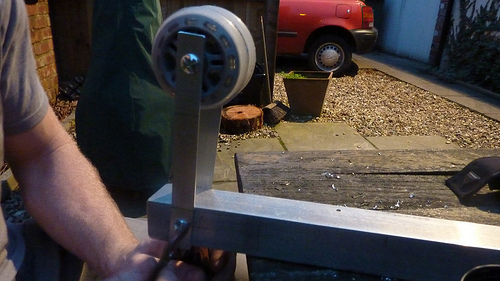 The rope we used was a semi static rope bought in a climbing shop, a bunch of climbign slings and screwgates. The major piece of kit that does all the work was a Petzl protraxion, essentially a pulley+locking mechanism. Attach rope at desired trees using slings then tension at one end using protraxion and a lot of grunt power. Attach cable cam to tensioned rope and get ready to film.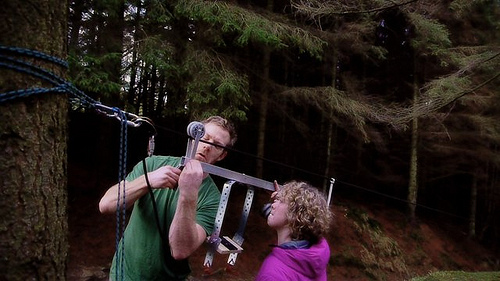 Here's our three top tips for making your own DIY Cable Cam.
These are some stills from the short film we made but you can watch the DIY cable cam video by clicking here.
Don't forget you can keep up to date with Maia Media on Facebook.