DIY Point of View (POV) Helmet Cam Rig
I've been interested in "Point of View" (POV) filming for a few years which is probably one of the reasons I love GoPro cameras so much.  Recently I set myself the task of creating a high production POV subjective style film. I knew I wanted to use my Panasonic Lumix GH2 camera as this would produce high quality video, enable me to choose my lens and have full manual controls over the camera which wouldn't be possible with a small GoPro type camera. I knew my rig was therefore going to have to be pretty beefy.

I  thought through a few designs and read up what others had done. There are light weight ways of rigging a camera POV style using the camera strap and a belt, or even just holding the camera in one hand against your chest or head but I wanted something a little more purpose built and flexible. One of my goals was to create something someone riding a bike (using both hands) would be capable of using.




Eventually I stumbled across an interesting blog by a guy called Enrique Rodriguez Bencomo.  It utilised a motorbike helmet and I  figured it looked like it would pretty much do the job. This is the rig set up and ready to go with my GH2 attached. When I actually tested the rig out I used a heavier wide angle lens and found the weights weren't quite adequate enough and were positioned a little too high.  Consequently, I re-drilled a hole lower down and added heavier weights which created a much better balance.  Getting the counter weights right is really important as it helps make the footage look more fluid and less jerky. A very wide angle lens is important too if you want to be able to see your hands and arms in shot. I used a 7mm  micro four thirds lens which is equivalent to a 14mm standard lens.

 Here's what you need to make your own POV rig:
Motorbike helmet
Manfrotto light weight tripod head
One 3/4 1 inch screw & two nuts (to attach the tripod head to the helmet)
Five inch screw, washers and nuts (to attach the weights to the camera)
Weights (dumbbell weights are ideal) to counterbalance your camera/lens
As you can imagine the view when wearing the camera is greatly impeded.  I've attempted to take a photo from inside the rig so you have a perspective of what it would be like to wear the helmet.  I often found myself looking at the LCD screen to move about rather than looking over and above the camera.  It will definitely cause a few issues when I finally get to test it out on a mountain bike rider but if the terrain isn't too technical then it has potential.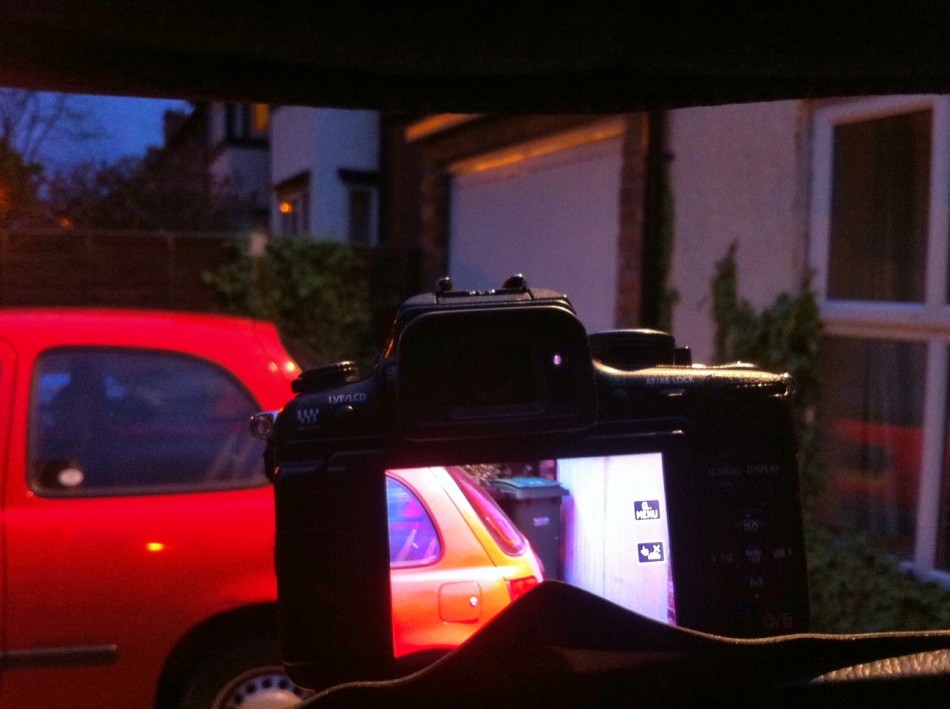 To put the rig to a proper test I took it to Blackpool Beach on  a very sunny day.  It's most definitely not inconspicuous so be prepared for some very funny looks and comments. I had some very nice people ask me what I was doing so it's a pretty good conversation starter.  My top tip would be just be to have fun with it. Experiment and enjoy yourself. Also be prepared to work those neck muscles if you plan to wear the rig for any length of time.
Oh, an my final tip is to bring a spare hat. Your hair will look a flattened mess by the time you finished filming.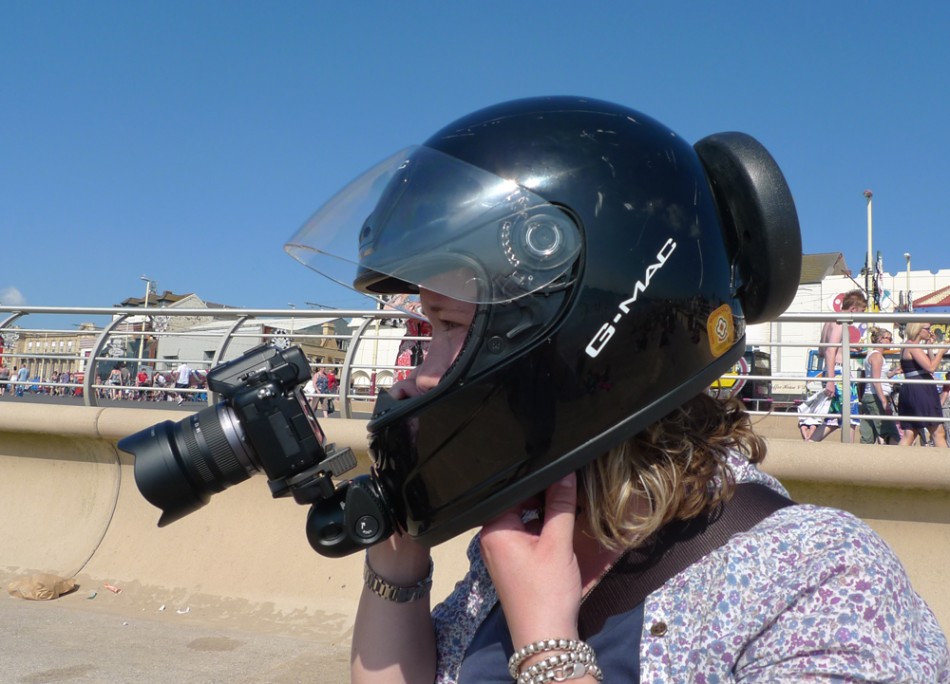 The results from my first test. Enjoy!