BOB Yak Bike Trailer Review
Bike trailers come in many shape and sizes and depending on your requirements you may go down very different paths. If you need to take the shopping from the supermarket or haul your kids around a two wheeled version is ideal.  They're stable and can be packed in a fairl haphazard way and will drag pretty much any weight you can handle. If on the other hand you're looking for a lightweight trailer to allow you to bicycle tour in more remote rugged environments or you want a trailer that will allow you to snake through sublime tight singletrack without catching on rocks and branches then a single wheeled follow behind is going to be better.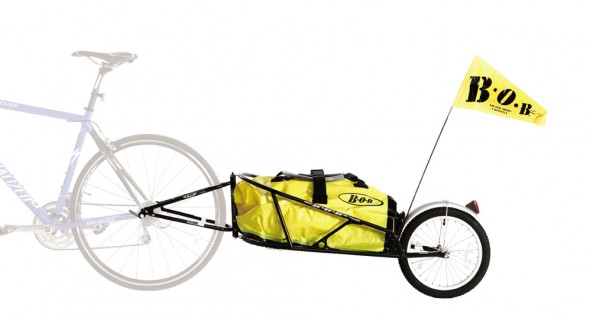 The BOB YAK trailer is one of the single wheeled breed of trailers designed to allow it to follow on much tighter more technical terrain.  The single wheel does mean it's important to pack your weight evenly otherwise you may end up getting pulled sideways all day.  The simple but effective construction means there's little to go wrong.  The floor of the BOB is corrugated split aluminum and there's little plastic skids on the bottom where the trailer would naturally scrape or rest when not attached to a bike.  These save the frame from getting destroyed.  The one element that worried me, but is also easily remedied, is the clips that keep the trailer onto the rear QR.  This is easily fixed by firstly carrying spares and secondly, in a push I can imagine almost any tough wire would create a workable fix i.e. coat hangers/fencing wire etc etc.

First impressions
We picked up the Bob Trailer second hand. It shows signs of rust at the joints and the attachment bungees for the clips are knackered but other than that is was in good order.  The trailer seems solid and well made if not overly technical.  The attachment QR mechanism is simple yet effective and it's easy to set up.  The steering/pivot system is also simple, effective and seems robust.  The metal base is a good solution and the single wheel is small enough that only serious abuse is going to cause trouble.

Riding with the trailer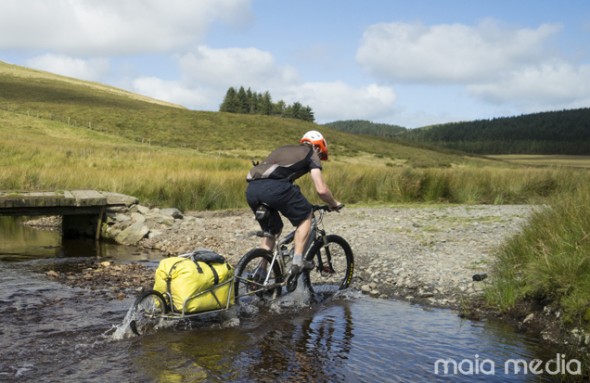 As we only had one trailer it was a job to get it packed.  I carried the tent/stove/sleepingsystems/clothes/food/repair stuff for two people and the trailer was not light!  Saying that I was very pleased to discover it was still a pleasure to ride with.  Once up to speed it felt little extra effort to keep it going.
Being steered!  What the first time rider with trailer will quickly discover is there is some feedback from the trailer to the bike.  This is most notable on quick descents where you'll feel the bike being nudged and pushed by the trailer as it bumps it's way down rougher terrain.  Thankfully it wasn't too unpleasant but it certainly made you keep your wits about you.  On tighter trails the trailer was very nimble and didn't get hooked up or caught which was a real pleasure. You can see more images of the trailer in action by watching our 'Bike & Bothy' video.

Packing and the BAG
The bag is huge, probably bigger than my expedition rucksack!  The temptation is to fill it, but really, don't!  You'll thank yourself to travel as light as possible even with the extra capacity.  Where the extra space will come in handy will be situations where you have no choice but to carry the extra water/food/gear.  The bag's made out of a tough PVC coated nylon, much like expedition duffels you'll see in most outdoor stores these days.  It's a good job as it gets fairly muddy from the back tire of your bike.  The roll top closure seems effective and is well proven  We were very fortunate on our first trip with the trailer, the weather was glorious so didn't test the waterproof characteristics but I'm sure it would be fine especially if the bags's not stuffed you'll get multiple rolls of the seal.  The carry handles are robust with a comfy handgrip and made getting the bag around very easy!  Getting the bag in and out of the trailer is a doddle as it's been designed to fit perfectly and when fully loaded you can still get it wedged in satisfactorily.

Overall ratings
Whilst I haven't done any very long trips with the trailer the 4 days I spent with it were remarkably easy going.  Steep hills and tight trails were a comparatively easy and being able to detach the trailer quickly was a real godsend on numerous occasions as we had to climb over locked gates on bridleways.  All in all I think for more adventurous terrain the BOB Yak excels.  I do wonder how much more comfortable or quiet the BOB Ibex (suspension version) would be.



Rating 8/10
What would I change – I don't know how it could be done but if it could be 2kg lighter I'd probably give it a 10/10