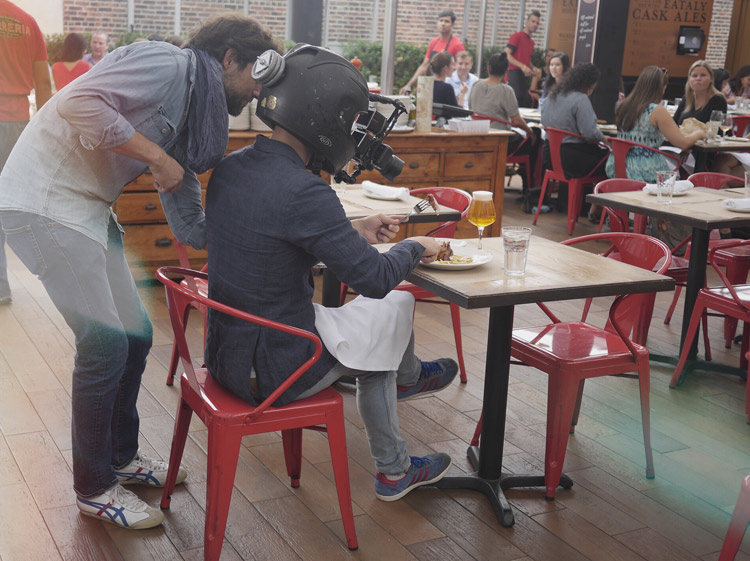 New York POV Filmmaking
In September I had the pleasure of spending 10 days in New York. I've never been to the city before and it was the perfect balance of 5 days pleasure and 5 days work.  My home was Brooklyn for the whole 10 days which I really enjoyed. The flea markets, Brooklyn Beer Brewery, Williamsburg and Brooklyn Bridge were just a few highlights.
Work began and pretty much didn't stop until we landed home.  We were filming an interactive POV commercial for Air France so even the airport was a film shoot. We were shooting from both a male and female perspective, so being the female cinematographer I spent an awful lot of time wearing a motorcycle helmet on my head.  We used our own DIY helmet cam rigs with the Blackmagic Pocket Cinema Camera.  The camera was a real treat to use and I'm sorely tempted to add one to my camera bag but the battery life is a real contention point as batteries were regularly lasting only 20 minutes.
There were several restaurant scenes involved with the producer eating food from our fork, out of our hands and over our shoulder.  Sumptuous cheese filled burgers were particularly difficult but it's a great shot to see the full burger move under the camera and pull back again to reveal a bite hole.  We also filmed from a helicopter, in a limo around Time Square, on a bike around Brooklyn and plenty more. Keep your eyes peeled on the Air France facebook page for the final film.