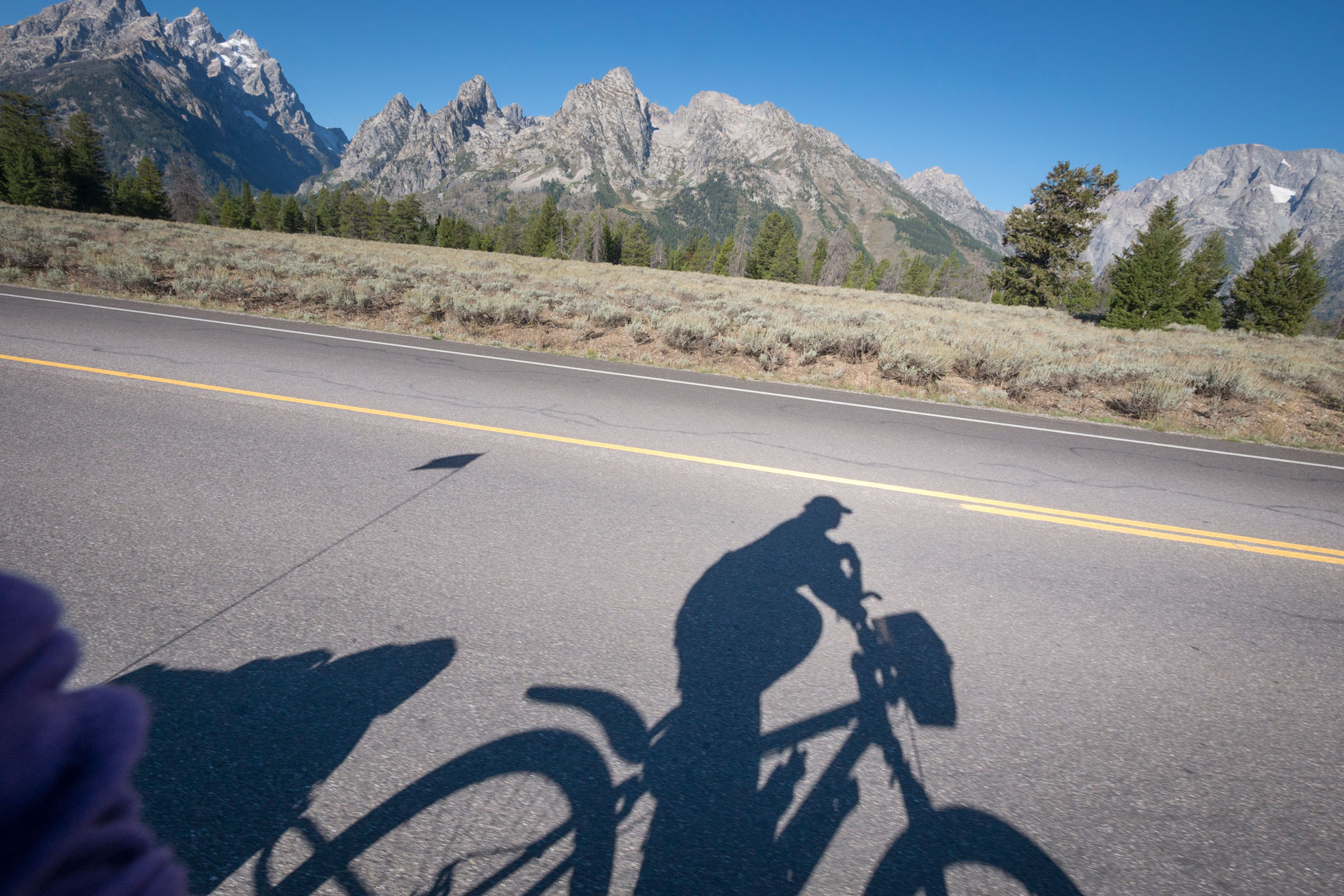 We made a plan to bundle all our clothes and camping gear into two little trailers and hop onto our mountain bikes to travel some 2,500 miles along the Great Divide from New Mexico to Banff in Alberta, Canada.  We wanted to roughly follow the established Great Divide route  (albeit backwards – South to North) through the Rocky Mountains. We were completely unsupported and camping the whole way with occasional motel stops. This trip involved cycling the height of seven Mt Everest's (*gulp)…but for every Everest you go up there's an Everest you've got to come down. Right?
Day 0. 9th August 2013 – New Mexico (no miles)
Our ride will mostly be desert which comes with a number of challenges. Firstly, we'll have to carry all our water for 2 – 3 days as there are no springs or towns. We're also in monsoon season so flash floods are a real concern.  On top of that I don't have a natural affinity to dry arid lands and am much more looking forward to mountains and rivers but I am excited to see the full change in landscape from here to our final destination.  I'm bloody excited and tired so it's time for sleep.
Day 2. 11th August 2013 – New Mexico Desert (36.2 miles)
35 miles into todays ride our Sat Map died by falling into a puddle whilst being charged in Patrick's handlebar bag. Doh! £400 of gear gone and only old fashioned paper maps to rely on now.  Lots of up hill today…but I think that's how it will be for the next 2 months. Filled up on 15 litres of water from a spring. I then broke my mech hanger by man handling my oversized trailer but Patrick fixed it well. Lots of desert style country and just how I imagined New Mexico. We were both staggered to see bear prints walking along the sandy road. Sadly I also lost a litre bottle of water and my favourite croc shoe off the back of the trailer. All in all it sounds like a bad day but it wasn't until the last 5 miles! But we did find a great camp spot with unusual rocky formations in the background. We dug a moat around the tent as we're watching lightening storms in the distance.  I lost my appetite when we arrived into camp so only ate half of dinner. Bring on tomorrow! No, really…its been fun. Oh and we saw a coyote!
This article is taken from snippets from Hannah's actual journal whilst cycling the US Transcontinental Great Divide trail.  First published March 2014.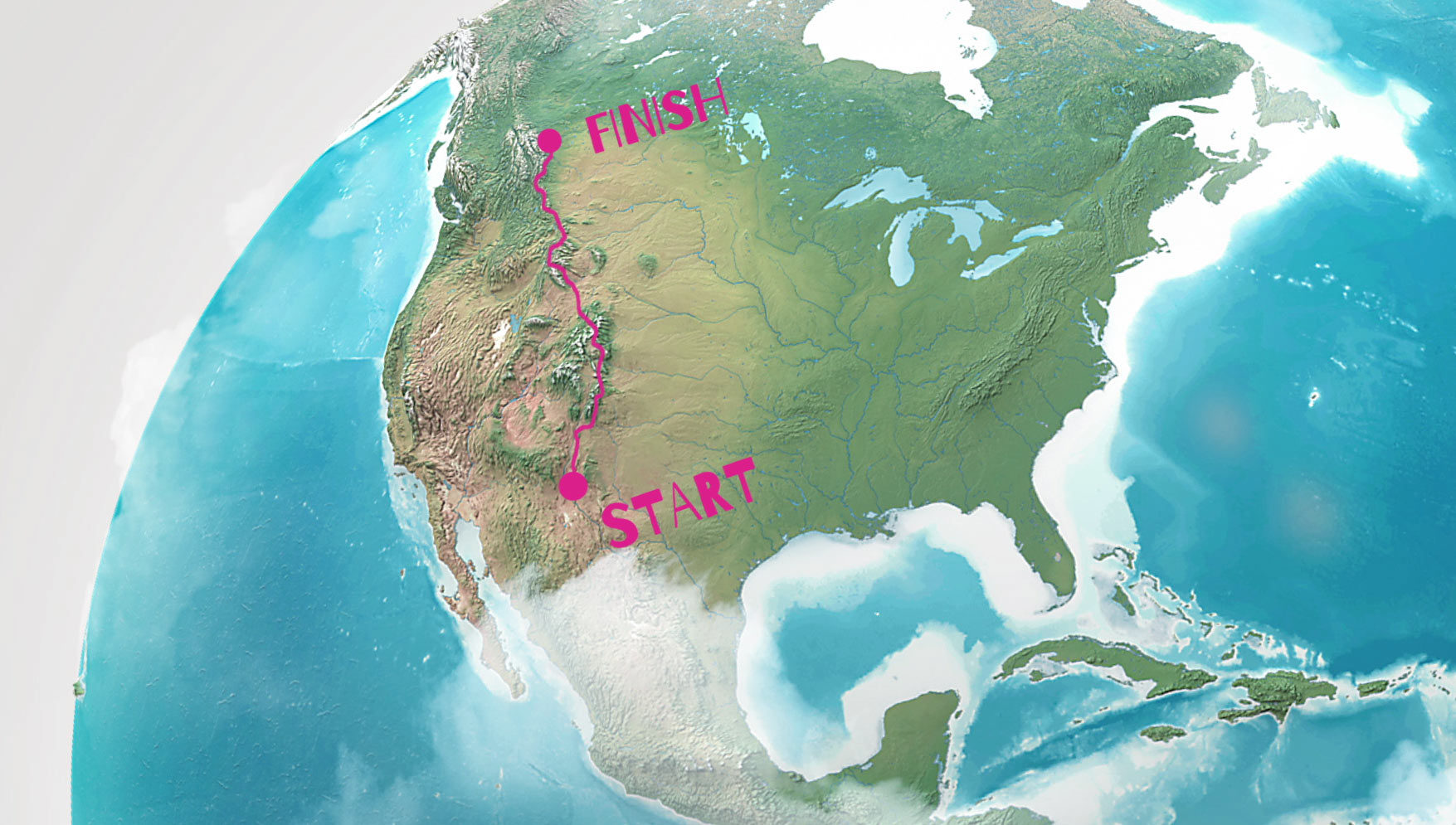 Approximate route of the US Transcontinental Great Divide trail.  Don't look too closely but if there were mountains you can assume we went over them.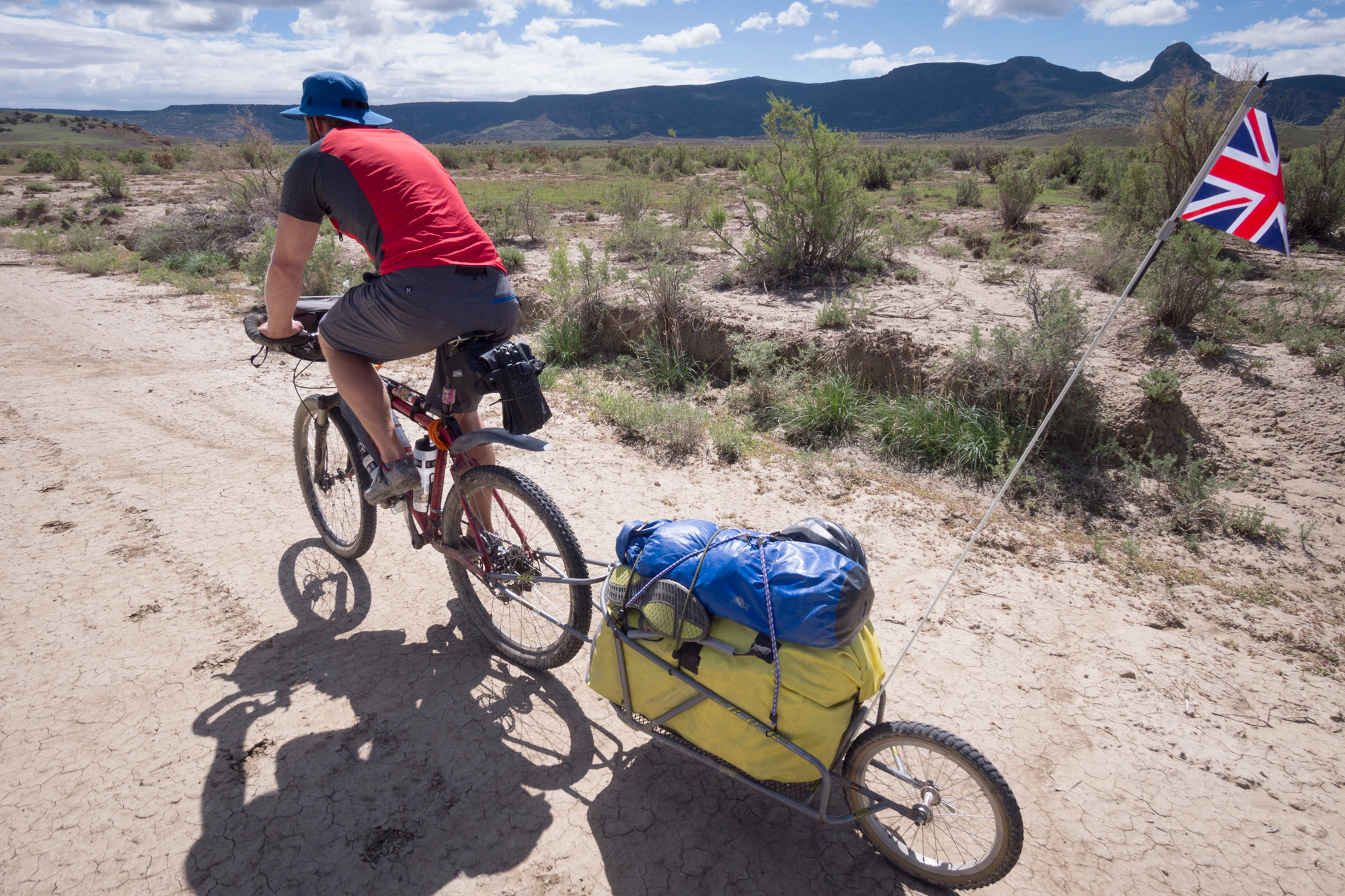 Day 3. 12th August 2013 – New Mexico Desert (23.4 miles)
Left at a leisurely 10.30am thinking it would be an easy day. We were wrong!! Massive arroyos and holes in the road. We both became stressed and anxious as we ran out of water and no GPS. Eventually we found the Ojo Frio Spring and camped there. Several cows came to share the water tank.
Day 13. 22nd August 2013 – New Mexico Desert (38 miles)
Another monster day when it should have been easy…ish. My wrong turn took us 2.5 miles wrong up the highway which meant a 5 mile detour.  Got it right and had a fast 5 mile tarmac descent but we should have put helmets on.  Started ascent but soon turned into another clag mud fest. Managed to pootle on slowly.  Great lush green valleys now with wide open views.
Up hills weren't as steep as we had thought. Still spent most our time going up. Hail and thunder storms hit us again! Aggghh! More epic mud clag! I had no brakes left and wobbling around. Aborted. Not too bad but snapped off extra handle bar bit. Hopefully it can be fixed. Pushed and slid around. Managed to ride a lot with Dolly Parton tunes in my ears. Kept me going in the rain for ages. Eventually became tedious. Chain stuck due to mud.
Then spotted about 9 Elk run through forest and over our road. Amazing. Later saw a lone Elk quite a lot closer.  Now camping by a nice lake at 10,000ft. Forgot cycle butter yesterday so suffering a little. Patrick looked after me when arrived at camp. Got me in the tent and was cooking dinner at 7.40pm. Noodles which were very nice.  Heard wolves again…or are they coyotes…do you get coyotes this high up? Do you get wolves this far South?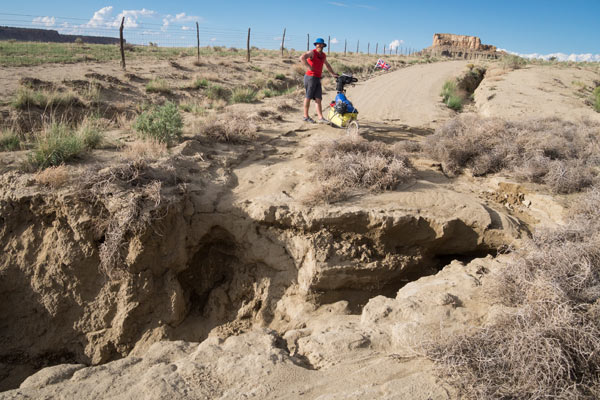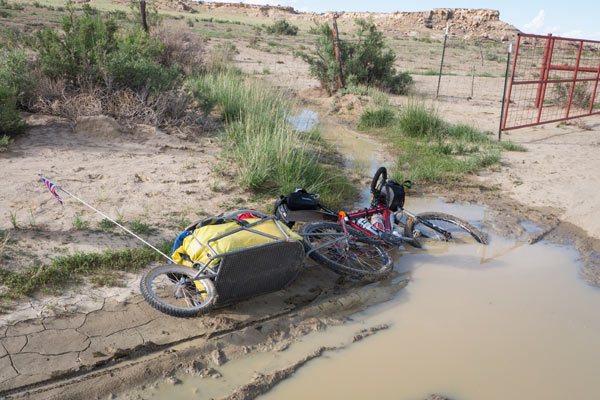 Day 17. 26th August 2013 – to Del Norte, Colorado (43.3 miles)
A big day but we managed. We climbed Indiana Pass reaching our highest altitude of the whole trip at 11,910 ft. Both definitely felt the thin air and I struggled at times near the top with empty legs.  But on the whole it wasn't as hard as I had feared and by 4.30pm we were drinking tea and eating cinnamon buns in the Peddler Cafe, Del Norte.   We camped in a shady RV park,  went for pizza and beer at a local micro brewery and polished off the evening with a margarita and extra large whiskey in the Windsor Hotel.  Brilliant!
Day 21. 30th August 2013 – to Salida, Colorado (83.3 miles)
What a day! Woke up by the reservoir and within the first hour we'd cycled 10 miles. The profile looked undulating but if we kept it smooth on the downs we were able to make the ups with very little hard pedalling. We kicked arse on the tarmac highway to Sargents where we were able to munch burger and fries.  We were there before 1pm so had time to digest properly too.  The plan had been to cycle 6 miles up the hill from Sargents and camp but it was so early we just kept going.  Felt really good on a gradual but very long climb.  We met a few fellow cyclists coming the opposite way and chatted.  But the top just didn't seem to come and eventually I lost my sense of fun.  We finally summited and then it was one of the longest descents I think I've ever done.  Made all the better by being the perfect gradient that required no pedalling and no brakes either.  It was very bumpy with occasional deep patches of sand.
We were chased by another thunderstorm but managed to stay dry.  More descent until we hit the lovely town of Salida.  By the time we arrived it was dark.  Found the hostel and fortunately they had space but only in a bunk room.  Straight after a shower it was out for pizza and more micro brewery beer.  Both felt a little bonked but clearly getting fitter. We made it to Salida in two days after all!!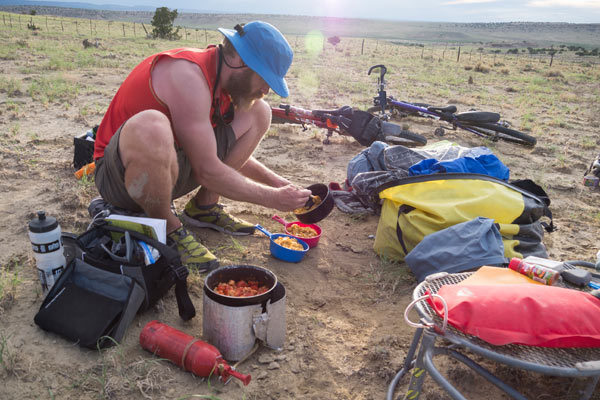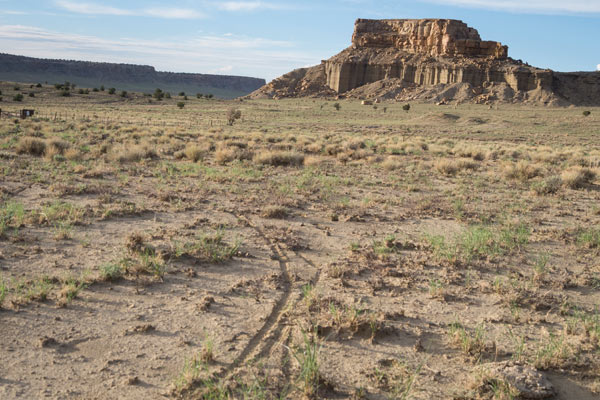 Day 23. 1st September 2013 – Salida rest day, Colorado (no miles)
We walked down towards the river and rented 'tubes'. Essentially giant rubber rings to float down the river. It was really great fun and we walked back up after several miles to do it again.  We nearly lost a GoPro camera and did actually loose a nice pair of Oakley sunglasses in one of the rapids. We played around diving into the water and it really felt like a little holiday on a holiday.
In the evening there was a picnic in the park with live music and fireworks.  We listened, ate and soaked up the atmosphere.  Thunder began rolling in and sadly people began to leave.  We stuck it out in support of the band until the heavens opened.  I was asleep by 9pm.
Day 26. 4th September 2013 – Onwards from Hartsel, Colorado (61.4 miles)
There was a 40 mile uphill to start the day and someone had stolen my mojo. Felt totally lackluster from the start. The roads were washboard and a little sandy which sapped my energy. We met Bill a cyclist coming the opposite way who was on day 18 from leaving Banff. He had super light kit but I'm amazed people can ride so fast.
We had a beer in Como as a thunderstorm was brewing.  Eventually we made it to the top of Boreas Pass at 5pm (approx 11,400ft and the highest actual continental divide crossing).  On the way down we were soaked by another thunderstorm and stopped halfway to put more clothes on.  Emerged into Brekenridge which was quite a culture shack as it's a posh little ski and bike town full of tourism.  Followed the 9 mile bike path to Frisco where we ate dinner and drank more beers.  Pitched our tent in the dark at 9pm.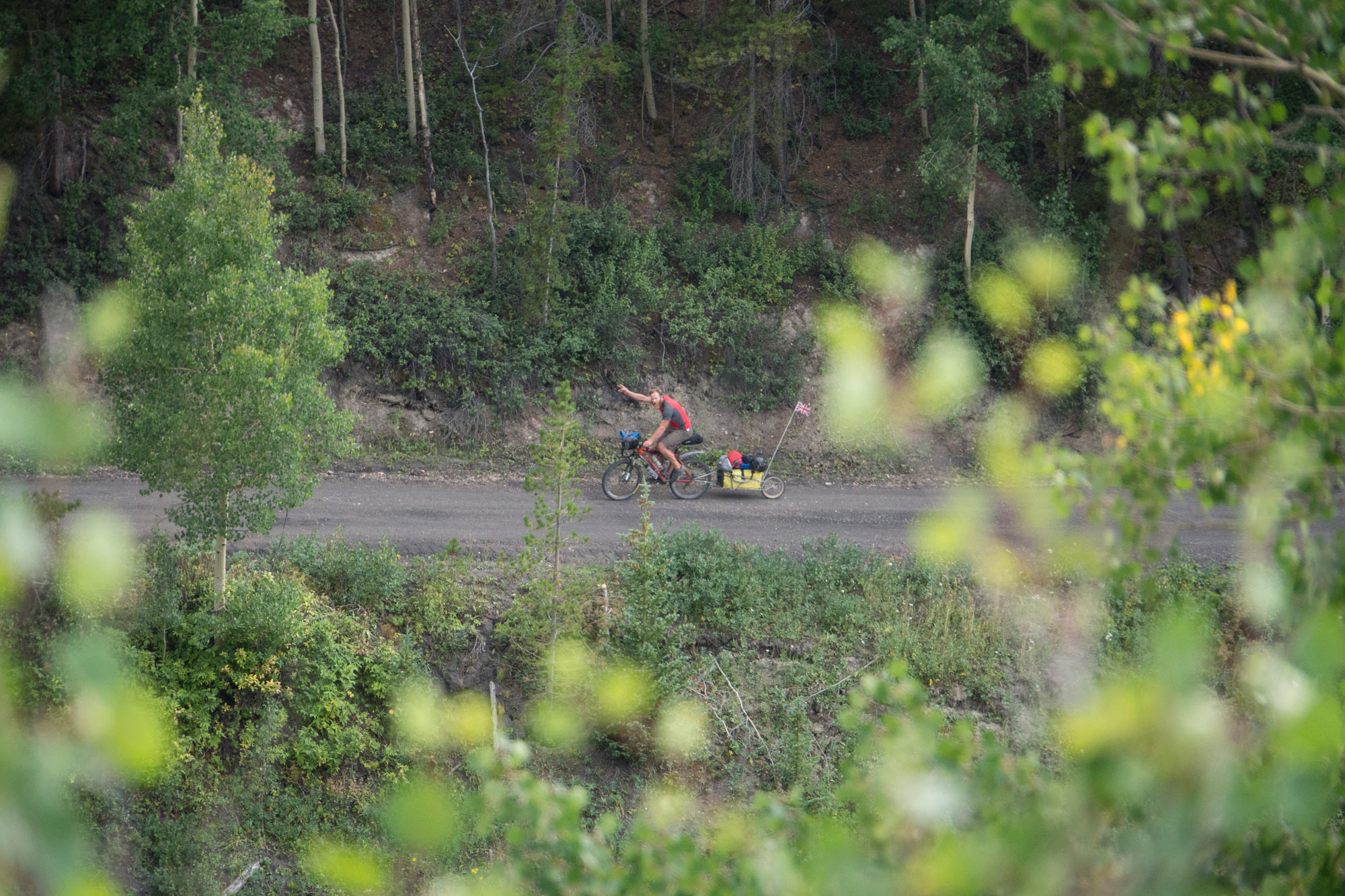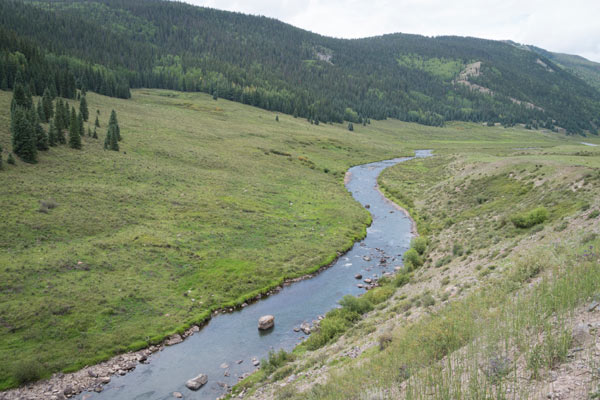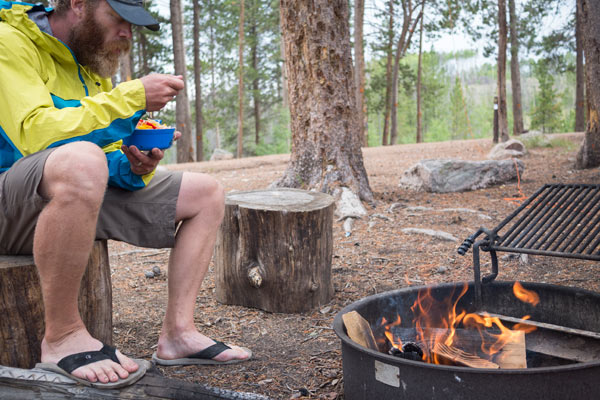 Day 30. 8th September 2013 –  Somewhere in Colorado (30.3 miles)
Well it was Patrick that lost his mojo today.  But it was a stinker of a day. An initial steady climb and descent followed by a really steep up and then a roller coaster trail after that. I rode the steepest long descent but had to push on other shorter sections.  Both our legs were so tired, painful and empty.  We had seriously underestimated the terrain profile.   We met two fresh cyclists coming the opposite way and they told us it was supposed to be the second steepest section of the entire route…the first steepest being totally unridable.
That night we were camped and in our tent. It wasn't raining but we saw flashes of red light and the loudest crack of thunder I have ever heard. Literally metres away. Scary, scary stuff!  I properly jumped and we got out the tent just to make sure nothing was on fire.  About 30 minutes later it began to rain and we kept hearing thunder but fortunately a little further away.  Madness.
Day 40. 18th September 2013 –  Grand Teton National Park, Wyoming (7 miles)
A ridiculous day. Raining in the morning but Patrick manages to get up and make us breakfast anyway.  The plan was for him to head to Jackson Hole and pick up parcel from the post office.  I was heading straight to Jenny Lake to grab a camp spot. I got to Mormon Row and the road turned to mud. I came to a tricky spot where I had to push as all my wheels where completely stuck and not rotating.    A car stopped and the driver said I was gnarly.  He also suggested I cycle on the grass as 'life is too short'.  His passenger then got out the car and photographed me on rapid shutter. When I looked at him to smile he looked down at his feet and as I continued he carried on snapping me with his camera.  It was like I was a buffalo or a moose or something. He was less than 10ft away and never smiled or said a word. Very strange and quite uncomfortable.
Anyway I continued on the grass until I fell in a ditch and bent the rear mech hanger.  Tried to carry on cycling which was a big mistake and the derailleur snapped and mangled into my bike.  Slowly made my way to a stream after detaching the trailer and carrying my bike as no longer pushable.  Washed bike in a stream until I could find the sram link and remove my chain.  Cable tied my derailleur to the frame and was able to push again as wheels now rotated.  Pushed back all the way to the campsite…taking hours.  At the campsite I dropped my only food – a sandwich – on the gravel floor. Gutted.  Patrick arrived back with cake and we toasted marshmallows over a campfire.
Day 42. 20th September 2013 –  Grand Teton National Park, Wyoming (no miles on bike but a hike)
Our first proper hike of the trip! Only about 7 miles with a 1.5 mile cycle to the trail head.  All uphill though.  3000ft in 3.5 miles and down again.  At the top were Surprise and Amphitheatre Lakes.  Stunning alpine lakes that are unfrozen for a few months of the year. We lunched, napped and I took a dip.  A very short dip!  Back at the campsite we enjoyed a stir fry noodle dinner followed by a great fire and toasted marshmallows. Oh and we made a good indent into the 5 litre box of red wine.
Day 47. 25th September 2013 – Yellowstone National Park, Wyoming  (no miles)
Well no snow today. Lazy tent time playing games on my ipad, reading books, eating, and charging batteries.  It's cold though. I wore my leggings in bed last night for the first time and I'm regretting sending Patrick's 'summer' sleeping bag home as it would have been a good extra layer.  Patrick looks very toasty in his massive down sleeping bag.  
We went for a short walk along the river in the afternoon and was fortunate enough to see another massive Elk with huge antlers. He strutted his stuff along the otherside of the river. Awesome! No camera but great to see.  Beef, carrot and onion with tinned tomatoes and smash for dinner.  Another fire (we collected wood earlier today) and more marshmallows with wine.  It's predicted to snow one foot tonight and Patrick and I can't quite believe it.  It's currently 1°C outside.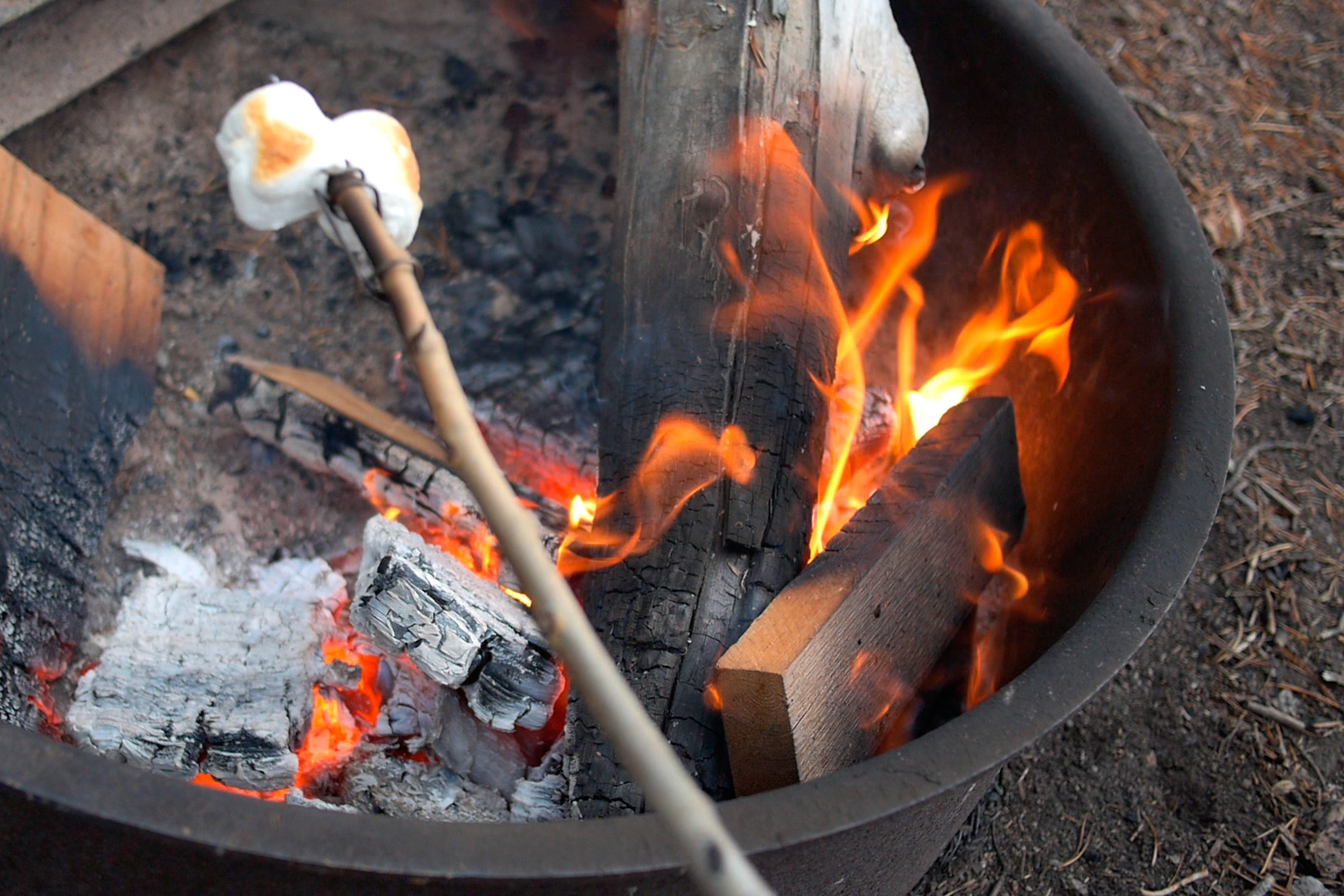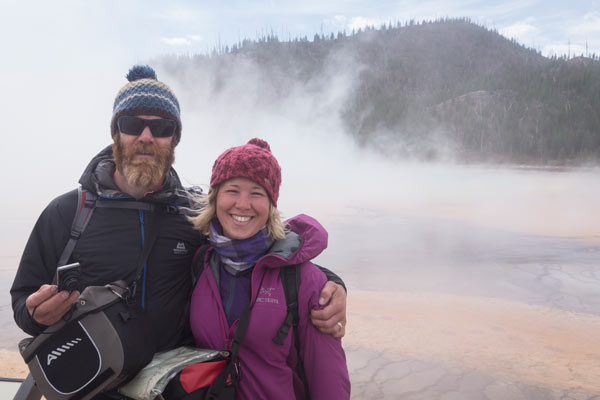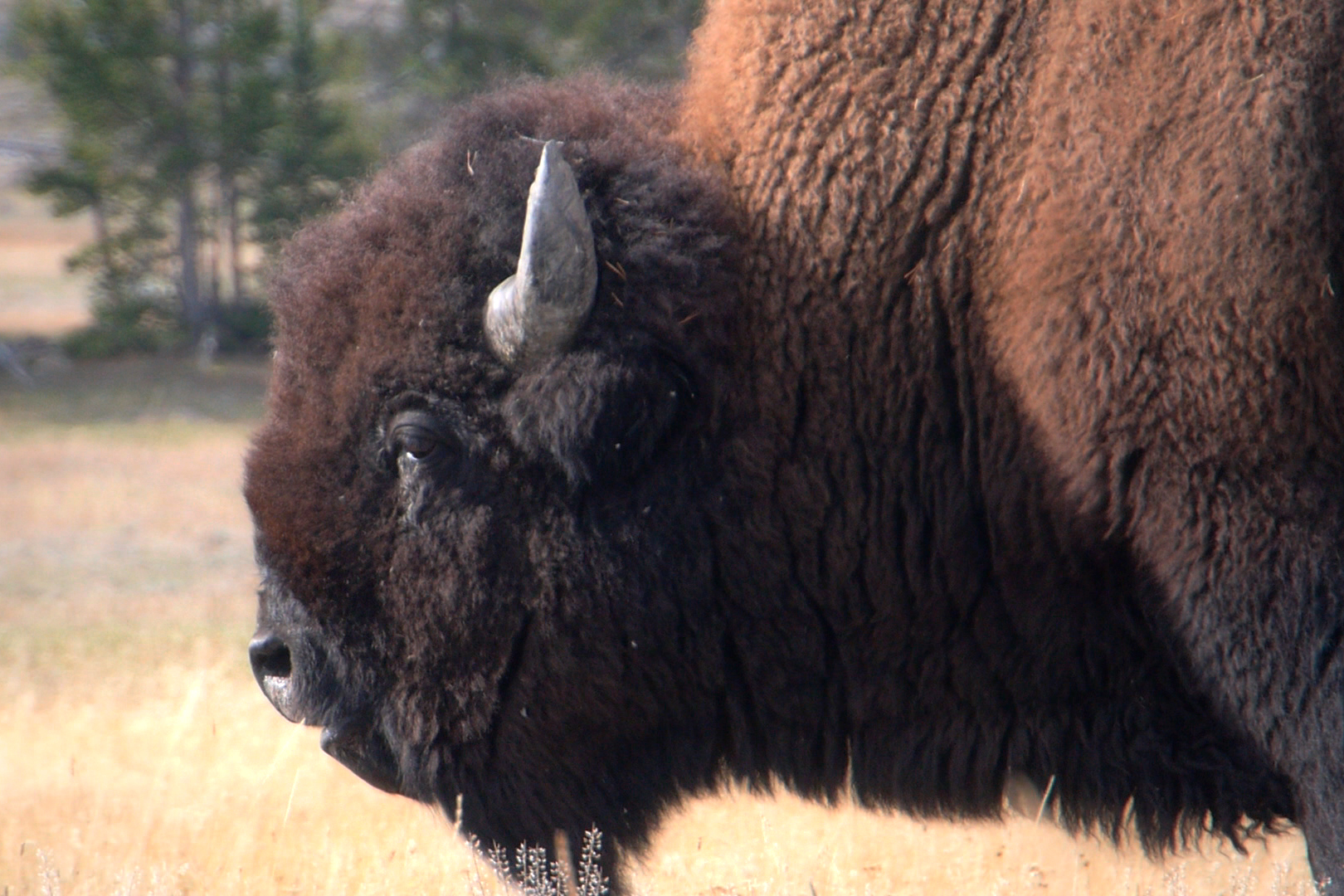 Day 49. 27th September 2013 – Montana (not sure how many miles)
Possibly didnt eat enough at dinner as I froze my ass off last night. Cold can get you grumpy. Got Patrick to fully zip me up for the first time. Lots warmer but also developed back ache from mummy type restriction.  Patrick set the alarm for 6.30am.  We had a long haul as our aim was to get to Norris Hotsprings where they have hot springs, a bar and live music.  Busted a gut to get there.  We were about 14 miles in when a massive head wind hit us that continued for ages.  Patrick got down and then I got grumpy.  We ate our tortilla wraps with ham and cheese outside a saloon that wasn't yet open.  Magically the wind died down over our 20 minute lunch stop.  
Made the next 10 miles to Ennis with me in the lead in super quick time. Coffee and muffin. Last ditch effort to Norris Hot Springs after a little grocery shopping. Massive uphill but spirits high.  Once at the hot springs "Water of the Gods" the nice man gave us free entry and camping because we had cycled. Awesome! Then we spent too much on wine and food as we hot springed and listened to music. Top ending!
Day 51. 29th September 2013 – Montana (64.5 miles)
Wind still howling. Another violently loud and crap nights sleep. Took the tent down methodically to prevent blowing away. To leave the campsite we had to go with the wind and neither of us pedalled once. It was hilarious.  It was just like we were on an electric bike! Then we pedalled into the headwinds to get out of the valley which was less than a mile. We then entered the main valley and the wind direction became a SW (so the wind in our campsite was just being channeled through the narrow valley). As we headed north it gave us a decent assist and we covered 30 miles in 2 hours.  It was great and such a relief.  
Day 52. 20th September 2013 – to Helena, Montana (8 miles + 22 in a car)
Early start to make the 30 miles to Helena and be there in good time.  Shortly after starting we saw dark clouds getting closer. We then saw a crazy line in the clouds…it was as if the clouds were bumping into each other. It was all quite calm but we put our waterproofs on. As we entered the angry looking clouds the wind and the rain lashed it down! All head wind. We hid behind a building until the front had moved through.  Then we cycled in the rain.  After 5 miles as the clouds began to look better the wind decided to show us what it could really do. It was impossible to cycle.  We pushed on a track just parallel with the main road.  Getting blown over. We made about 8 miles in 3 hours.  We decided to talk through options. I wanted to head on to the distant blue sky and hope it would stop. Patrick was in favour of returning to Townsend and a motel.  We carried on…only 15 minutes later Kevin and his pick up truck drove over and offered us a lift to Helena. What an incredible and kind man! So many other people had passed us and just kept going.  
Booked into a Motel 6. Four walls felt good. Got my spoke fixed, replaced Patrick's thermarest that now resembled a sausage and drank a couple of 6.9% IPA beers in the Blackfoot brewery. No preservatives so they don't bottle or can. Delicious.  Safeway for dinner….whole cooked chicken, rocket, bread and chilli sauce for me. Yum! Crap TV and bed.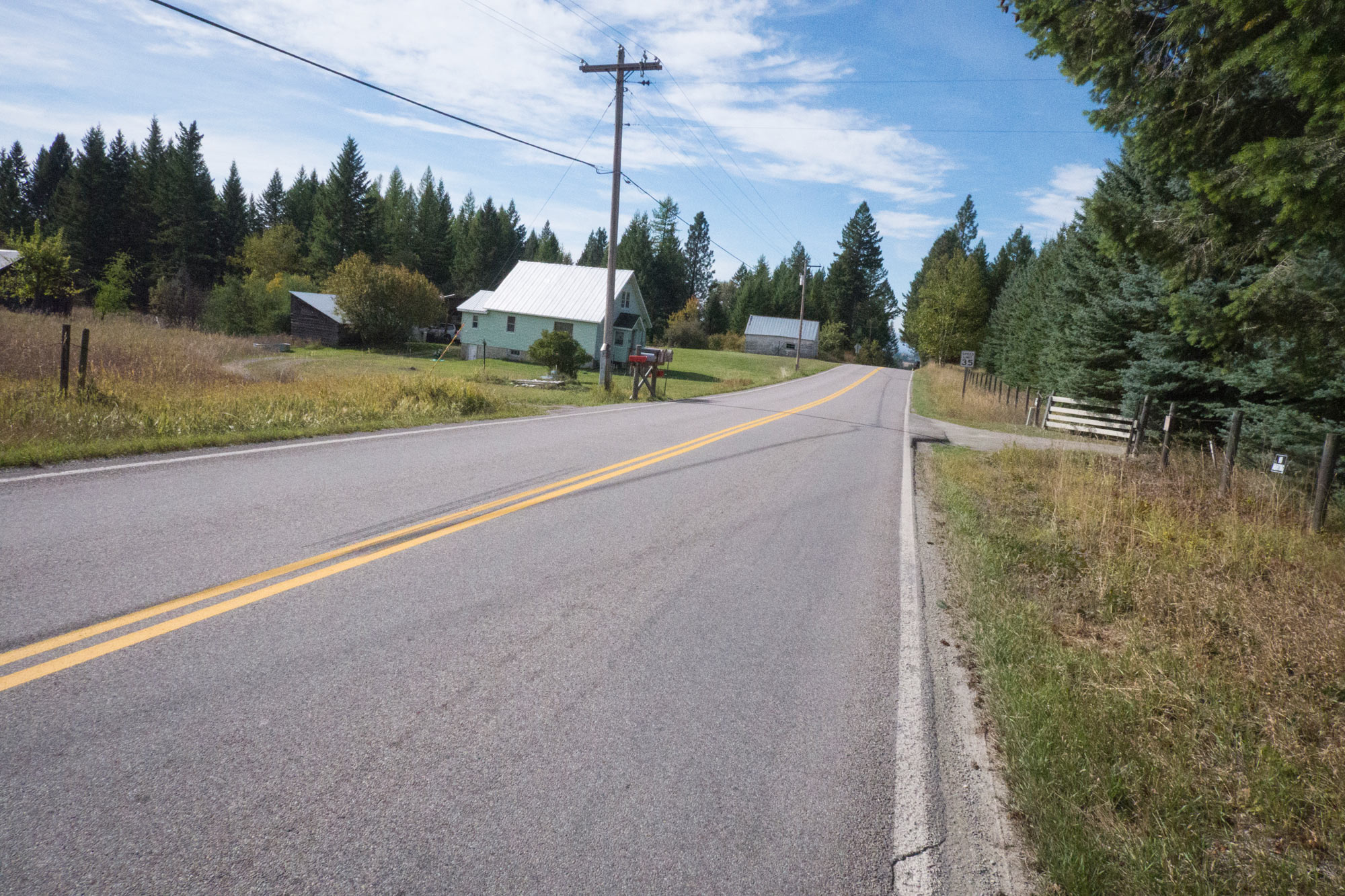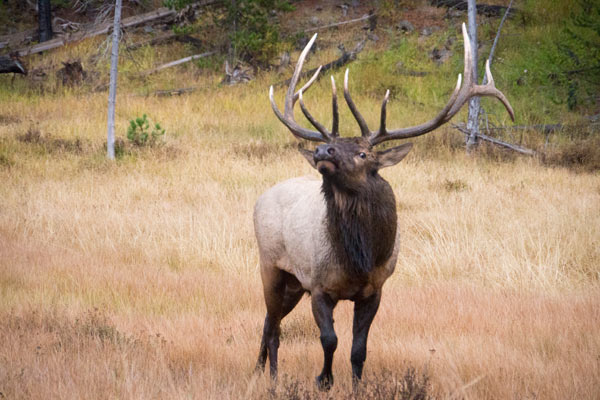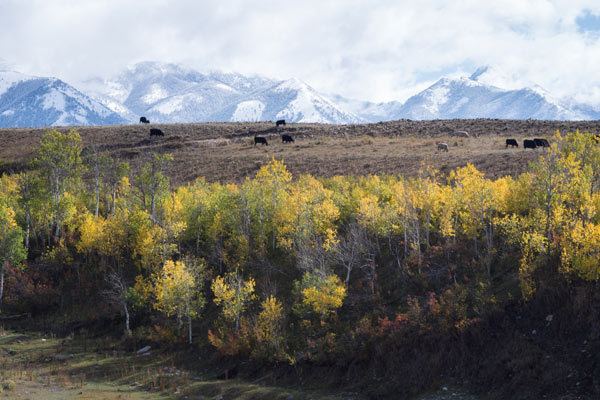 Day 55. 3rd October 2013 – to Orvando, Montana (35 miles)
It was a cold morning. Had to climb up Huckleberry Pass and we could see rain or snow clouds. Long gradual climb with lots of old bear poo on the road. Most definitely in bear country now.  The top of the pass had a smattering of snow. Put most of my clobber on…2 synthetic Arcteryx jackets, fleece buff, wooly hat, long sleeve 200 woollen top, cheap gloves, waterproof over mittens, neoprene socks, 3/4 cycling shorts and over shorts.  Bloody froze my ass off! Coldest we've ever been on the trip.  All down so no need to pedal which became unpleasantly cold.  Still the scenery was gorgeous with yellow aspen trees so I had to stop to get a few photos.  Got frost nip on my finger.  Got to the bottom and had lunch by the side of the road. A Fed Ex van rolled past…it's amazing how you feel in complete wilderness one minute and civilisation the next.
Got to a small town called Orvando. Population of 71 according to our map and we were greeted with 'Welcome Cyclist' signs. They also had a tipi, gypsi caravan and an old jail house for people to sleep in for only $5. We ate pecan pie and ice cream in the cafe and decided we would stop here for the night despite being 10 miles short of our aim. Chose to sleep in the old jail. Little strange but definitely warmer than a tent. It was like a wooden cabin but with rope cots to sleep in.  Everyone very helpful and friendly. Amazing little town fully embracing all the Great Divide cyclists.
Day 60. 8th October 2013 – to Eureka, Montana (66.9 miles)
My trailer wheel began making a funny noise until it threw a tantrum and spewed out all its ball bearings onto the road. Totally wobbles from side to side. Patrick decided to swap wheels so he has had the shitty one.  Got to Eureka and found a DIY store. Picked up something to botch the wheel into working. Camped at an RV park and went for dinner and beer across the highway. It seems to get more and more important to spend a little time indoors as it gets colder. Cooking and eating outside with no chance of a campfire to get warm is not appealing anymore.  We tried to go bowling – a proper American sport – but it was 'ladies only night so they wouldn't let Patrick bowl.
Day 63. 11th October 2013 – British Columbia, Canada (don't now how many miles)
We spotted quite fresh grizzly bear poo just 100m from Fernie town centre.  Madness! I set the pace and trucked on to Sparwood in good time. We tried to find a cup of tea and warmth but spotted a libary instead and so we surfed the internet for 40 mins.  Cycled on to Elkford where we grocery shopped.  We aimed to camp in a meadow just 5 miles past Elkford town.  About a mile in I remembered a cyclist we'd passed told us to cycle on the East side of the river because the crazy June floods had destroyed bridges. Just then a car approached so we flagged them down to ask about the bridges.  He told us to stay on the West side because the bridge was ok and the other side was full of logging trucks.  He told us he was camped in the meadow we were aiming for and that they (him and a bunch of other hunters) were cooking a turkey dinner and we were very welcome to join them.  How nice.
When we arrived they gave us a beer and told us stories. We sat in their communal tent which has been there over hunting season every year for the past 40 years.  Amazing.  We joined them for dinner with all the trimmings.  We enjoyed more hunting stories and were told about a hiker just the week before who had spent 6 days without food after being bluff charged by a bear 4 times.  The hunters fed him too. They told us that there are too many grizzly bears in the valley now.
In Banff Patrick would later tell me that this night he heard a bear snuffling around our camp whilst we were sleeping.  He didn't wake me up but needless to say he got very little sleep afterwards.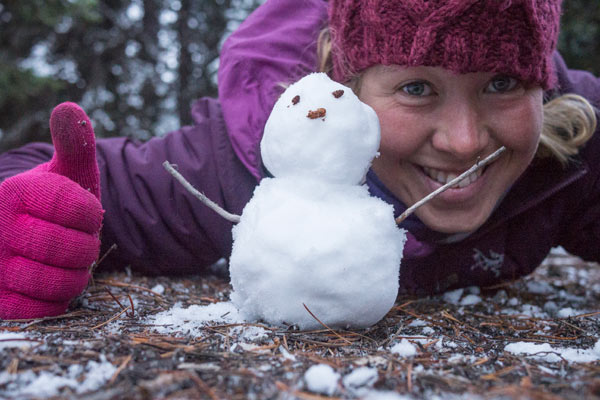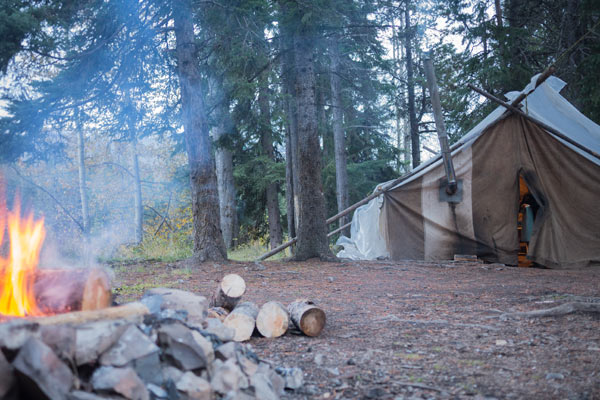 Day 65. 13th October 2013 – to Banff, Canada (over 75 miles)
Last day on the bikes. A long, long, day.  We've clearly developed fitness as we would never have completed a day like this earlier in the trip.  Cycled for miles on gravel road…more than gravel…it was small tiny pebbles that became extremely tedious but it was nice to have stunning snowy mountains all around us.  We had second lunch about 4pm which wasn't a great sign as to when we would finish.  The cycle track leading to Banff had a warning notice that bridges were collapsed due to earlier floods and there was absolutely no entry. We headed off on the slightly more boring and much longer tarmac route. We had already paid for a night in a hotel in Banff and we most certainly weren't going to miss a night in a bed due to some epic river crossing.
It was dark as we began our cycle from Canmore to Banff along a cycle track.  It was quite a moment when a MASSIVE train choo'd past us only metres away…stars were twinkling in the sky and the shark fin shaped silhouette of the mountain was straight ahead.  We had nearly made it! What an incredible Megamoon!