Megamoon is a film about a journey by bike where love and adventure come together. Hannah's personal story of how she came to be pulling a heavy trailer across the worlds longest mountain bike trail.  Megamoon premiered at Kendal Mountain Festival 2014 and was shortlisted for the People's Choice Award.
Patrick and Hannah had been together and going on great adventures for over ten years. They decided to make a plan and that plan involved getting married and going on a honeymoon. After celebrating their Big Day in May with awesome friends and family they bundled all their clothes and camping gear into two little trailers and hopped onto mountain bikes to travel some 2,500 miles along the Great Divide from New Mexico to Banff in Alberta, Canada.  They wanted to roughly follow the established Great Divide route  (albeit backwards – South to North) through the Rocky Mountains. They were completely unsupported and camping the whole way with occasional motel stops. And in case that wasn't enough they decided to paddle 260 miles down the Colorado River through the Grand Canyon first.
As always Hannah was never far from her camera and tried to capture some of the fun and adventure. On return to the UK she began to create a short film of their 3 months together. She can wholeheartedly say it was a Megamoon to remember. Whilst the film is certainly their personal story, Hannah hopes it's enough to make your toes tingle and provides an extra nudge to get you planning your next adventure.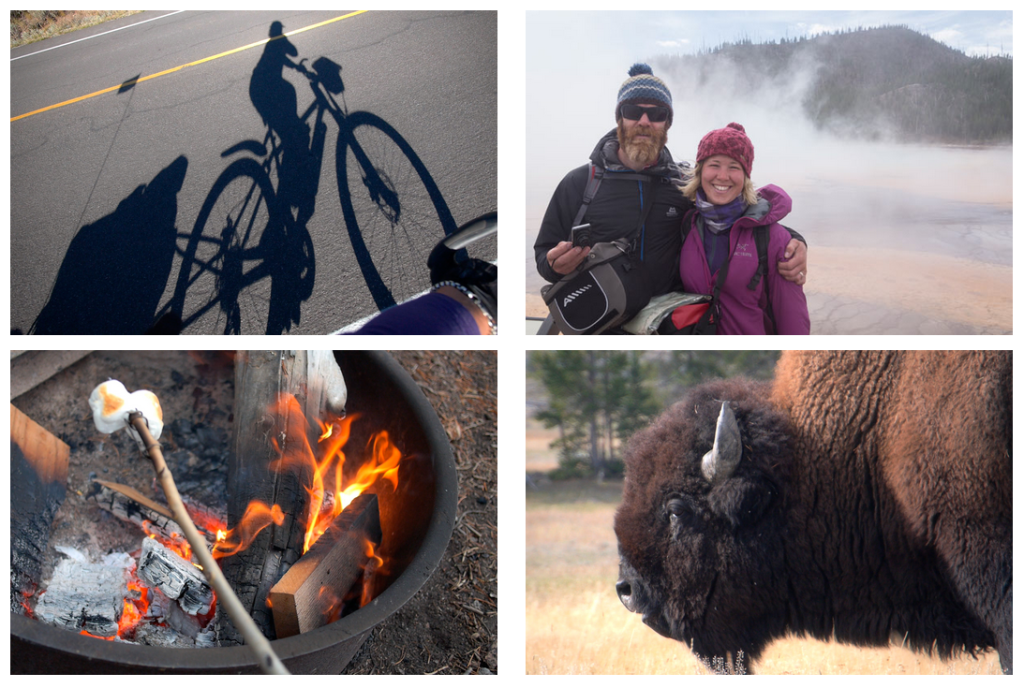 Hannah's Great Divide Journal
"Day 55 – Had to climb up Huckleberry Pass and we could see rain or snow clouds. Long gradual climb with lots of old bear poo on the road.  The top of the pass had a smattering of snow. Put most of my clobber on…2 synthetic Arcteryx jackets, fleece buff, wooly hat, long sleeve 200 woollen top, cheap gloves, waterproof over mittens, neoprene socks, 3/4 cycling shorts and over shorts.  Bloody froze my ass off!  All down so no need to pedal which became unpleasantly cold.  Still the scenery was gorgeous with yellow aspen trees so I had to stop to get a few photos."  – Hannah Maia, Great Divide Journal Entry
READ THE JOURNAL
Lava Falls: A River Journey through the Grand Canyon on Sidetracked by Hannah Maia
Standing on the jagged rock looking out over the river, we were all trying to discern a pattern. I was desperate to overlay some sanity to the chaos in front of me. The rock we stood on was from a lava outcrop overlooking one of the best-known rapids in continental USA. The stone was smooth below our feet, worn by the shoes and sandals of many paddlers before us; a testament to the power and gravity of the pulsing water we were trying to fathom. What had the people before us seen? Which way did they go?
READ THE ARTICLE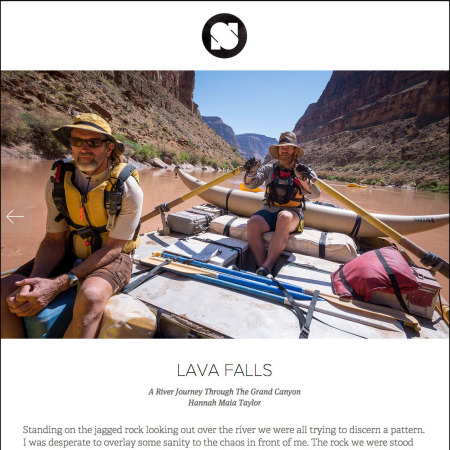 Paddling the Grand Canyon
At the start of our Megamoon we set off on a self guided non-commercial trip down the Colorado River through the Grand Canyon. This is our expedition video journal in which we've mixed real time sound, music and 3D images to bring the whole story alive. Using Adobe After Affects we manipulated our 2D expedition photographs into 3D to help provide a sense of really being there.

 

To be in the Canyon is spectacular. Far more than just rapids and water.
PEDALLING WITH YOUR BEST FRIEND BY YOUR SIDE, SURROUNDED BY MOUNTAINS & LOOKING OUT FOR MOOSE. THAT'S MY KIND OF HEAVEN
A timelapse of our last night (in snow) before reaching Banff. A big shout out to the Adventure Cycling Association! A non-profit organisation on a mission is to inspire and empower people to travel by bicycle. They provide a whole heap of resources including the maps we used our entire journey.
From 1995 through 1997, Adventure Cycling Association mapped the longest off-pavement mountain bike route in the world, spanning 2774 miles from Canada to Mexico following the spine of the Rocky Mountains.  The entire route is basically dirt-road and mountain-pass riding every day. In total, it has over 200,000 feet of elevation gain.
Thank you Adventure Cycling Association for being so awesome.